USA VA Education
Benefits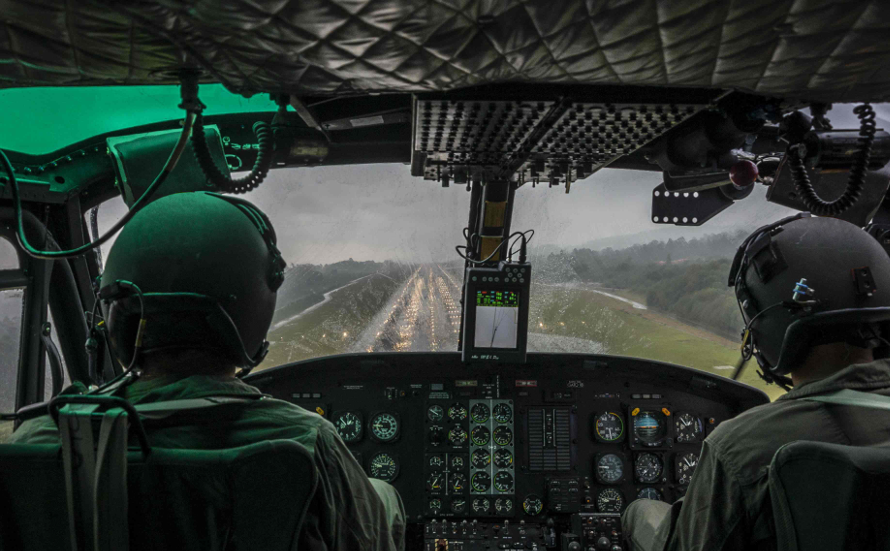 Are you a US veteran or active military service member looking to utilize your GI Bill®1 benefits for flight training?
FlightSafety International currently offers over 60 approved programs at 8 different learning centers across the United States for use with your VA benefits. Whether you are looking for fixed wing or helicopter training, there are numerous options available to you at FlightSafety International.
Approved Learning Centers Include
We are continuously seeking VA approval for additional locations and programs for use with VA benefits in order to further expand your choices in flight training.
GI Bill Benefits
FlightSafety International is approved to accept both Post-9/11 GI Bill (Chapter 33) and Montgomery GI Bill (Chapter 30) benefits. If you have any questions regarding utilizing your GI Bill® benefits at FlightSafety International, we encourage you to contact us at VABenefits@flightsafety.com or complete the form below.
Aircraft Specific Training
ATLANTA
Citation I/II/SII Initial
Citation I/II/SII Recurrent
Dash 8 100/200Q/300Q Initial
Dash 8 100/200Q/300Q Recurrent
Embraer 120 Initial
Embraer 120 Recurrent
King Air 90/100/200 Series Initial
King Air 90/100/200 Series Recurrent
King Air 300 Series Initial
King Air 300 Series Recurrent
Learjet 31 Initial
Learjet 31 Recurrent
Learjet 35 Initial
Learjet 35 Recurrent
Learjet 45/45XR Initial
Learjet 45/45XR Recurrent
Learjet 60 Initial
Learjet 60 Recurrent

DALLAS/FT WORTH
Airbus Helicopters EC135
Bell 212 ATP Initial
Bell 412 ATP Initial
Bell 430 ATP Initial
Falcon 10 Initial
Falcon 20 Initial
Falcon 900EX Initial
Falcon 900EX EASy II Initial
Falcon 2000 Initial
Falcon 2000EX EASy
Falcon 7X Initial
Gulfstream 100
Gulfstream 150
Gulfstream 200
Gulfstream 280
Gulfstream GII/GIII
Gulfstream GIV Initial
Gulfstream G450/G550 Initial
Pilatus PC-12NG Initial
Sikorsky S-76B Initial
HOUSTON
ATR 42/72 Initial
ATR 42/72 Recurrent
Challenger-601-3A Initial
Challenger 601-3A Recurrent
Embraer 145 Initial
Embraer 145 Recurrent
Falcon 10/100 Initial
Falcon 10/100 Recurrent
Falcon 50 Initial
Falcon 50 Recurrent
Hawker 800XP Initial
Hawker 800XP Recurrent
Saab 340 Initial
Saab 340 Recurrent

LAFAYETTE
AW139 Initial
AW139 Prior Experience
AW139 Recurrent
Bell 206 Initial
Bell 206 Recurrent
Bell 407 Initial
Bell 407 Recurrent
Sikorsky S-76 Initial
Sikorsky S-76 Recurrent
Sikorsky S-92 Initial
Sikorsky S-92 Prior Experience
Sikorsky S-92 Recurrent

LAGUARDIA
Beech 1900C Initial
Beech 1900D Initial
Shorts 360 Initial
SAVANNAH
Gulfstream GIV Initial
Gulfstream GIV Recurrent
Gulfstream GV Initial
Gulfstream GV Recurrent
Gulfstream G450/G550 Initial
Gulfstream G450/G550 Recurrent
Gulfstream G650 Initial
Gulfstream G650 Recurrent

SEATTLE
Beech 1900D Initial
Dash 8 100/200Q/300Q Initial
Dash 8 400Q Initial

TUCSON
Challenger 601 Initial
Challenger 601 Recurrent
Challenger 604 Initial
Challenger 604 Recurrent
Learjet 31 Initial
Learjet 31 Recurrent
Learjet 35 Initial
Learjet 35 Recurrent
Learjet 45/45XR Initial
Learjet 45/45XR Recurrent
Learjet 55 Initial
Learjet 55 Recurrent
Learjet 60 Initial
Learjet 60 Recurrent
WICHITA
Beechjet 400A Initial
Beechjet 400A Recurrent
Beechjet 400A Prior Experience
Cessna Caravan I G600/G100 Initial
Cessna Caravan I G600/G100 Recurrent
Cessna Caravan I Initial
Cessna Caravan I Recurrent
Citation Mustang Initial
Citation Mustang Prior Experience
Citation Mustang Recurrent
CitationJet Series Initial
CitationJet Series Prior Experience
CitationJet Series Recurrent
Hawker 4000 Initial
Hawker 4000 Prior Experience
Hawker 4000 Recurrent
Hawker 800XP/900XP Initial
Hawker 800XP/900XP Prior Experience
Hawker 800XP/900XP Recurrent
King Air C90B Initial
King Air C90B Prior Experience
King Air C90B Recurrent
King Air C90 GTi Initial
King Air C90 GTi Prior Experience
King Air C90 GTi Recurrent
King Air 200 G1000 Initial
King Air 200 G1000 Prior Experience
King Air 200 G1000 Recurrent
King Air 200 Pro Line 21/GT Initial
King Air 200 Pro Line 21/GT Prior Experience
King Air 200 Pro Line 21/GT Recurrent
BE-300 Series Initial
BE-300 Series Prior Experience
BE-300 Series Recurrent
Learjet 45 Series Initial
Learjet 45 Series Prior Recurrent
Learjet 45 Series Recurrent
Premier Initial
Premier Prior Experience
Premier Recurrent
Ratings and Certifications
ATLANTA
ATP CTP

HOUSTON
ATP CTP

SEATTLE
ATP CTP
VERO BEACH
Commercial/Instrument/Multi-Engine Certification
Commercial Pilot Single Engine
Additional Aircraft Rating Multi-Engine Land with Instrument Privileges
Certified Flight Instructor
Commercial/Instrument/Multi-Engine Category Rating
Instrument Rating Single Engine
Instrument Rating Multi-Engine
Professional Pilot Program (Only specific Part 141 area)