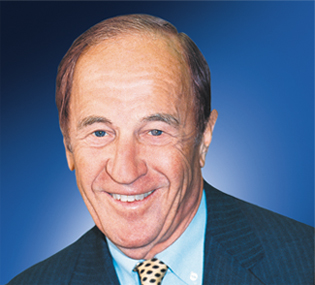 A.L. Ueltschi, founder of FlightSafety International, passed away peacefully at his home in Vero Beach, Florida on October 18, 2012. He was 95.
Al Ueltschi learned to fly at the earliest possible age, soloing at 16 at an airfield not far from his home on a Kentucky dairy farm. The enterprising youngster opened a hamburger restaurant, the "Little Hawk," where the main dish cost just a nickel. He used his demonstrated entrepreneurial skills as collateral on a loan of $3,500, the purchase price of an open cockpit aircraft in which he gave flying lessons, staged his own air shows and barnstormed around the country.
The University of Kentucky had trouble retaining the attention of the aviator/student/businessman who continued to polish his in-flight teaching skills. Moving on to chief pilot duties for Queen City Flying, based in Cincinnati, Ohio, the young Ueltschi filled his log book with the varied flying experience that was needed for his next big move.
Joining Pan American World Airways in 1941 widened the Ueltschi horizons with many thousands of airline flying hours. He was later selected for one of the airlines' most unusual piloting jobs -- flying the business aircraft of the company's President and Founder, Juan Trippe. As his personal transport Trippe used a fast, converted WWII aircraft, typical for that day. These transitional corporate aircraft became the foundation of the nation's business aviation industry. Ueltschi observed that the pilots of these aircraft had no access to the benefits of the formal training that he had experienced as an airline professional. The founding of FlightSafety was inspired by this insight. He established the pilot training company at New York's LaGuardia Airport in 1951.
While constantly diversifying the company, within its aviation-training specialty he remained an active Pan American pilot until taking FlightSafety International public in 1968.
Since the early eighties, he has been closely involved with Orbis, an international nonprofit aircraft-based teaching eye hospital that travels to the world's less-developed areas to teach sight-saving techniques and surgical procedures. As it is an aviation-related concept, Ueltschi has advised and contributed to the Orbis cause through its transition from a brilliant idea to its execution, first (for 10 years) as a DC-8 aircraft and now as a massive DC-10 airliner hospital/clinic and teaching facility. Ueltschi has served for many years as Chairman of Orbis International. In mid 2010, he was elected Chairman Emeritus.
He was honored as the recipient of the 1991 National Business Aircraft Association's Award for Meritorious Service to Aviation and in the same year, he also received the FAA - Federal Aviation Administration's "Award for Extraordinary Service."
In 1994 the Wright Brothers Memorial Trophy, perhaps the most prestigious of the nation's aviation awards was presented to the Frankfort, Kentucky-born schoolboy who was inspired by Lindbergh's Atlantic crossing. Ueltschi followed in Lindbergh's footsteps to receive the Wright Brothers Trophy, also the footsteps of Juan Trippe, who was honored by this prestigious award in 1966. Aviation Week magazine awarded its Laurel Award to Mr. Ueltschi at a 1995 Washington ceremony, citing his Lifelong Achievement in aviation.
In July of 2001 – in the 50th Anniversary year of the founding of FlightSafety – Mr. Ueltschi was enshrined in the National Aviation Hall of Fame at a ceremony in Dayton, Ohio. This 40-year old aviation tradition has created one of the highest honors in the aviation world. Again, he followed in the footsteps of his aviation inspiration – Charles Lindbergh, who was inducted in 1967 and his aviation mentor Juan Trippe, who was a 1970 National Hall of Fame inductee in 1970.
The National Aeronautic Association presented Mr. Ueltschi with its Elder Statesman Award in November of 2001, and in December he received the NBAA's American Spirit Award. The Aero Club of New England presented its Godfrey Cabot Award to Ueltschi in June, 2003. The Aero Club, which was founded even before the Wright Brothers first flew, cited Mr. Ueltschi's "unique, significant, and unparalleled contributions to foster aviation."
Mr. Ueltschi was presented with the Orbis Lifetime Achievement Award in February 2006 for his contributions to eliminating unnecessary blindness around the world. The Canadian Business Aircraft Association presented their first Lifetime Achievement Award to Mr. Ueltschi in June 2006. The award was presented for his contribution to aviation safety in Canada.
In 2010, Mr. Ueltschi cofounded HelpMeSee (www.helpmesee.org) with his son, Jim, for the purpose of addressing the cataract tragedy in the developing world where about 19 million cataract blind, representing almost 50% of all treatable blindness, reside.  Fortunately, there is a good quality and very cost effective surgical solution known as Manual Small Incision Cataract Surgery (MSICS). Unfortunately, there are not sufficient numbers of practitioners to meet the need. Taking the learning systems developed in aviation training, including very high fidelity simulation devices and modifying them for medical training purposes, HelpMeSee intends to train many thousands of MSICS specialists to serve their local communities in the areas of greatest need. The innovative training curriculum will include "practice management" and community outreach elements which are integral to building a sustainable and viable solution. HelpMeSee intends to create a fundraising arm throughout the developed world in order that no one who can't afford surgery will be denied. It is a big challenge, but Al Ueltschi has taken on many before.
Mr. Ueltschi was the father of four, grandfather of 12 and had six great grand children.